PLAIN presents the  upcoming exhibition XX-LAM at Omaha by Design.
XX-Lam explores the spatial and structural possibilities of curved, cross-laminated timber construction. It adopts the "cross lamination" bonding pattern of CLT as a conceptual strategy for exploring the language of mass-timber architecture. XX-Lam applies (crosses) the technical capabilities of CLT with the architectural principles of the John Hejduk's Nine Square Grid exercise in an installation of curved, linear components set within at 3X3 architectural grid at Omaha by Design.
EXHIBITION OPENING: DEC 16, 2021 END DATE: FEB 17, 2022
6.00 – 8.00 PM
XXLAM STUDIO
OMAHA BY DESIGN
618 SOUTH 11TH ST, OMAHA, NE. 68102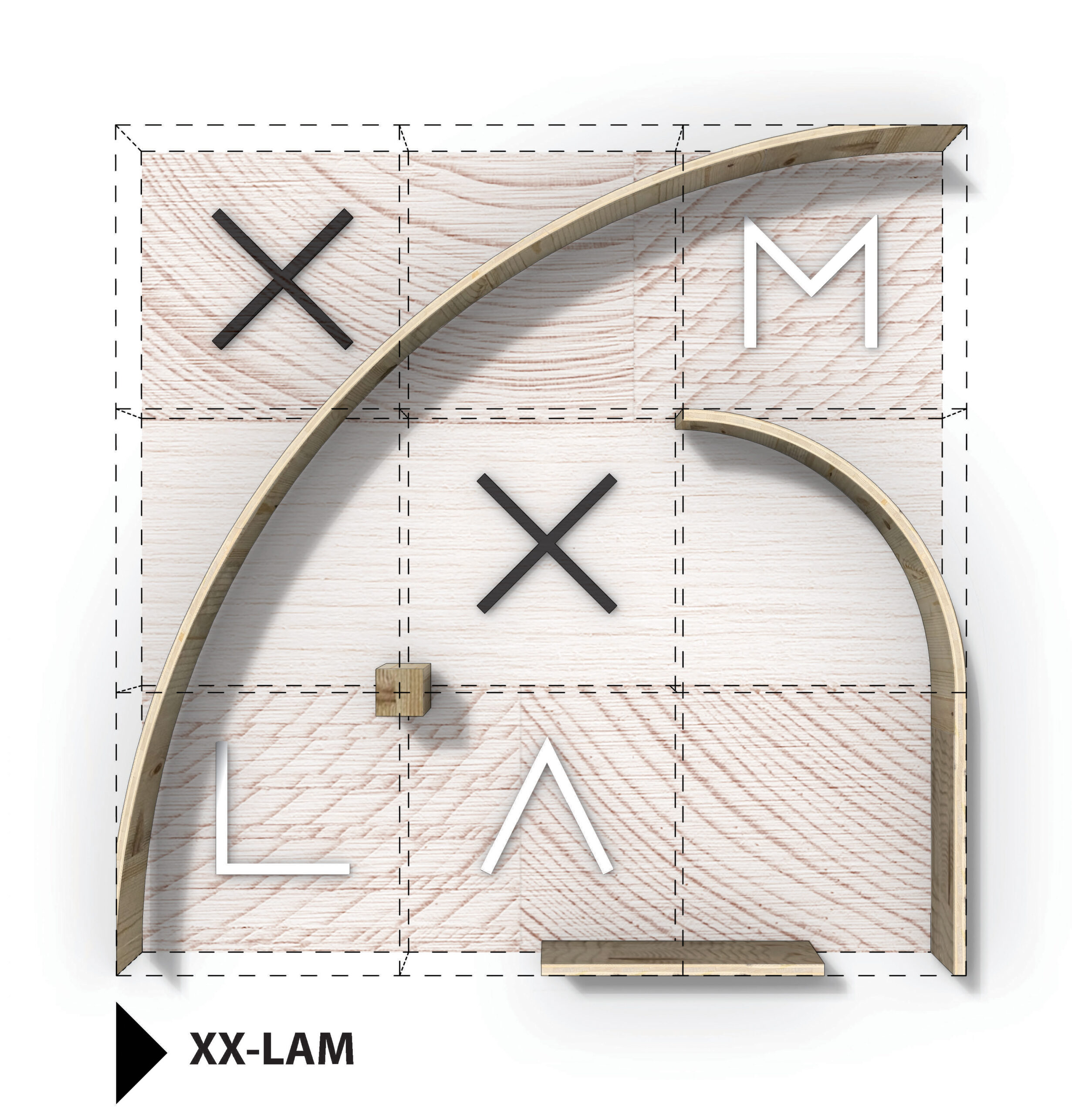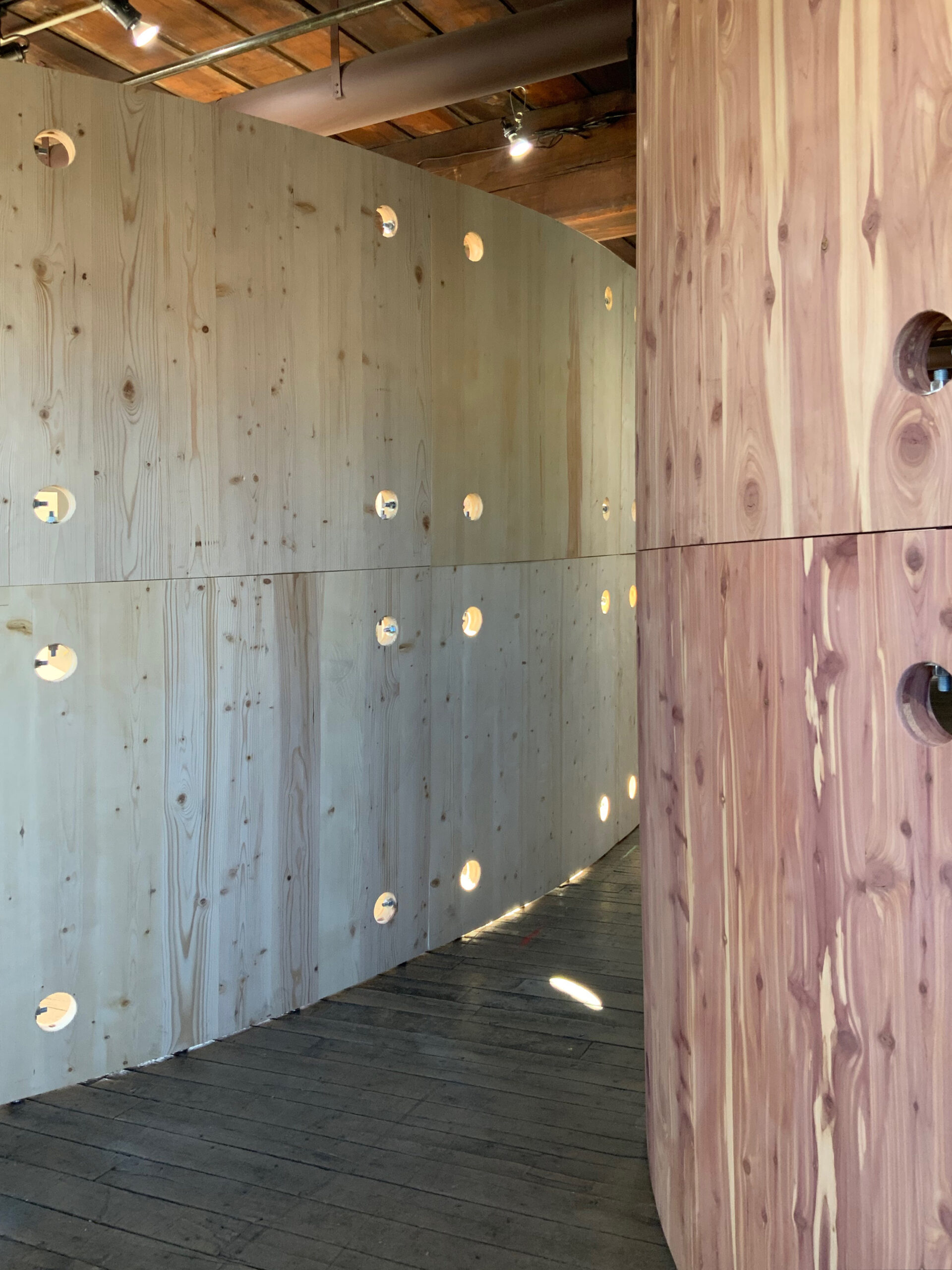 Perhaps not since the early 19th century has timber played such a significant role in the way we think about architecture. Advances in the material science of timber lamination have radically changed the perception of wooden structures and today laminated timber buildings offer efficient, sustainable, and affordable alternatives to concrete and steel. In addition to carbon sequestration CLT also promotes the future of the forestry industry and helps diversify timber growing regions within the US.
While many CLT buildings are composed from linear or flat elements recent developments in the vacuum forming process have also allowed us to consider curved components. Advanced bonding patterns, CNC mold making, and lamination techniques can produce vaulted, domed and curved forms that offer new flexibility for designers.
XX-LAM is a PLAIN Design-Build project developed by students from the UNL Masters in Architecture program under the instruction of associate professor Jason Griffiths. It was produced in collaboration with the Nebraska Forest Services (This institution is an equal opportunity provider), Omaha by Design and UNL 's Innovation Studio.
Students are: Caroline Goertz, Jacob Urban, Colton Corrin, Christopher Bean and Pegah Rahmani.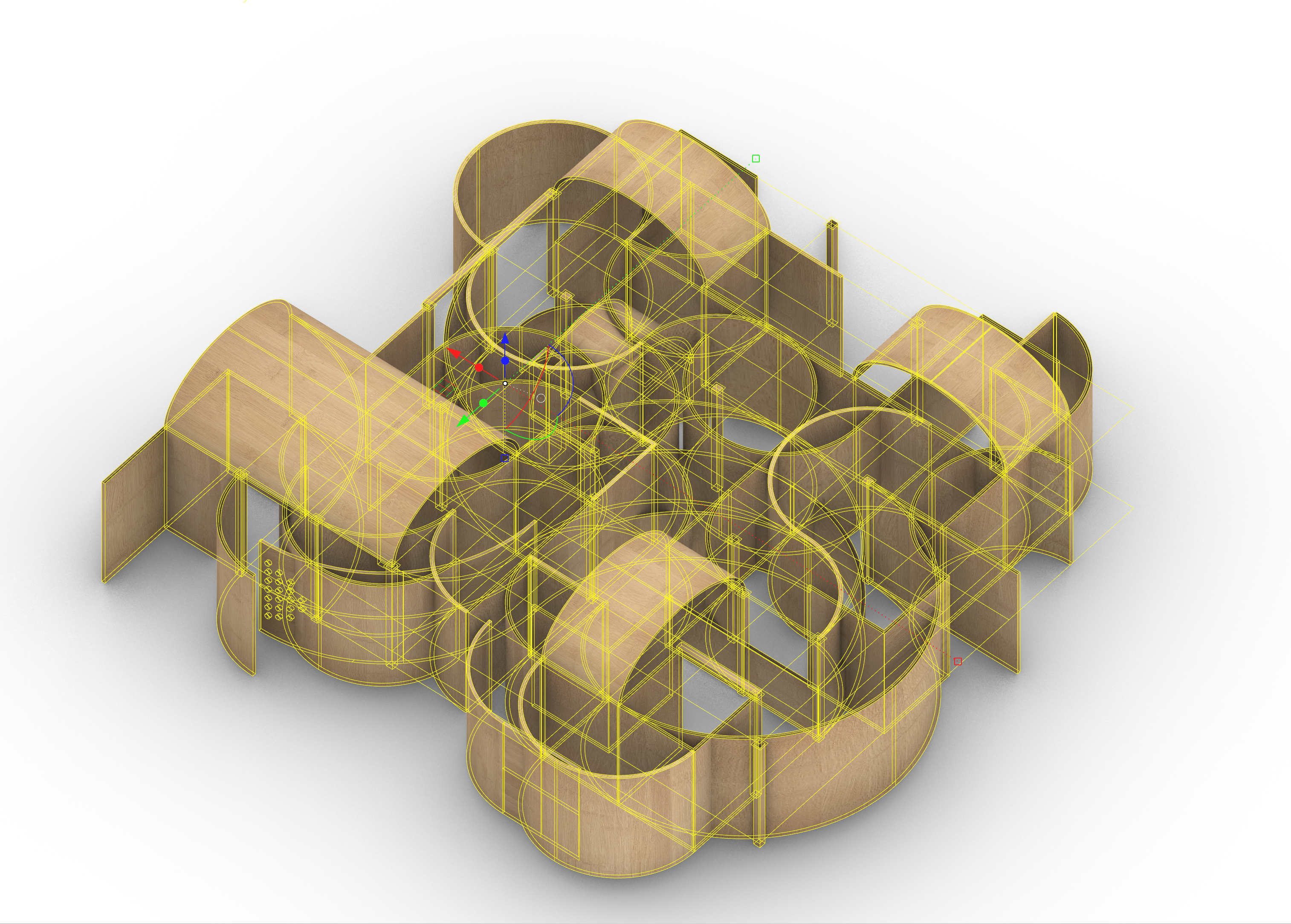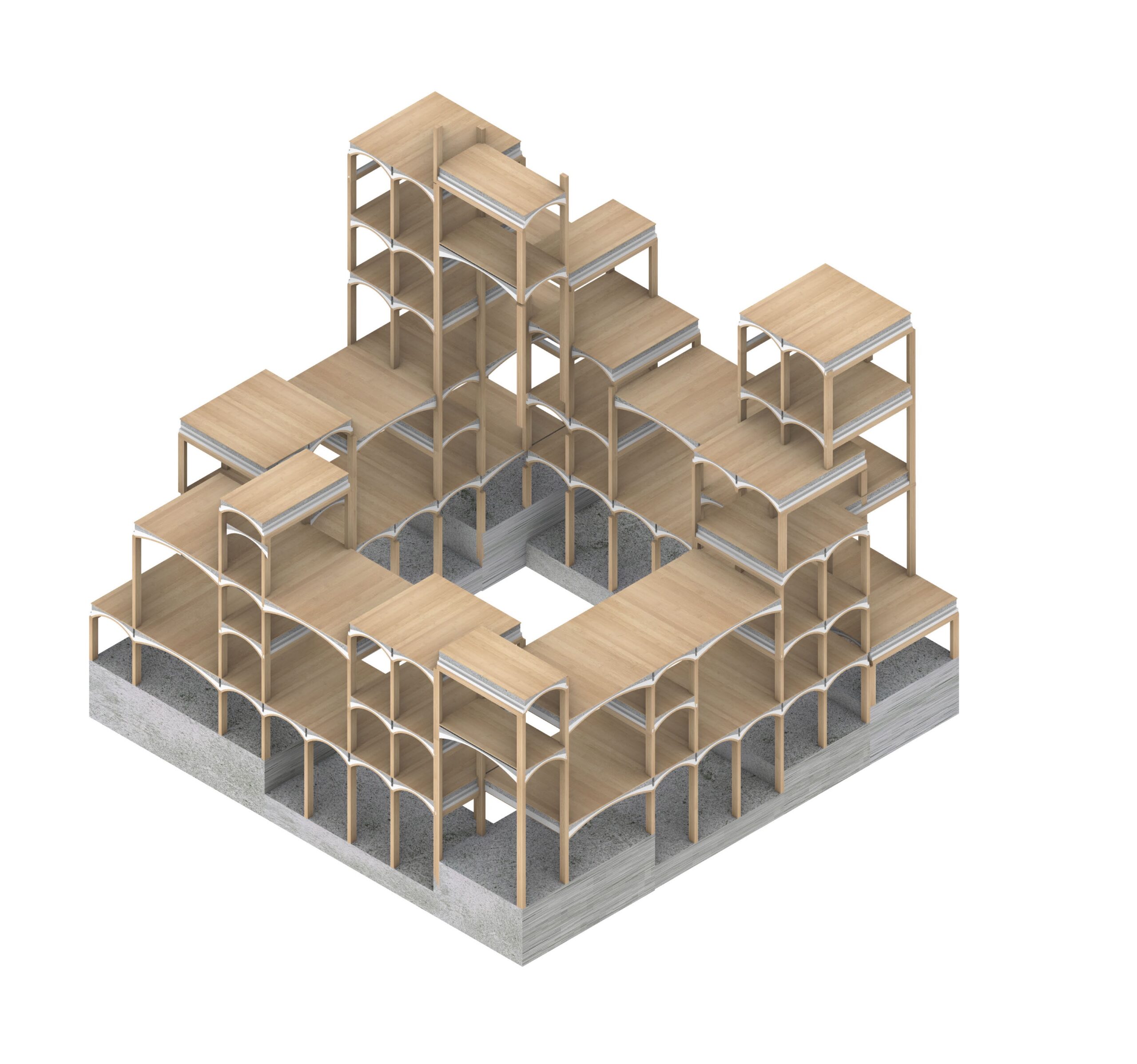 Multi-storey Curved CLT Structures
XX-LAM explores future versions of multi-storey buildings using curved CLT panels. 
Version I 
Version I consists of point loaded glulam column structure with glulam beams and single direction vaults of curved cross laminated timber floors.
This system extends the Nine Square Grid in 1:2:1 proportional relationship. Grid spacing is on 10 and 20 foot centers and vault radii of 10 or 20 feet.
Vaulted slabs are composed of a permanent formwork comprised of five-layer CLT vault, a layer of foam insulation, a poured concrete slab topped with timber floor
Multi-storey Curved CLT Structures
Version II
Version II consists of a point loaded glulam column and beam structure with curved and planar CLT walls. This system is comprised of single curvature CLT walls that divide spaces between columns and are  independent of structure.
Formal studies demonstrate free-floating or intersecting column and wall proportional relationships. Grid spacing is on 20 foot centers with curved wall in 10 and 20 foot radii.
Curved wall spaces are created through concatenation  of curved wall radii joining with tangential continuity or at 90 degrees with planar CLT walls. Floor system (not shown) consists of CLT slabs in composite concrete and foam insulation or suspended floor arrangements.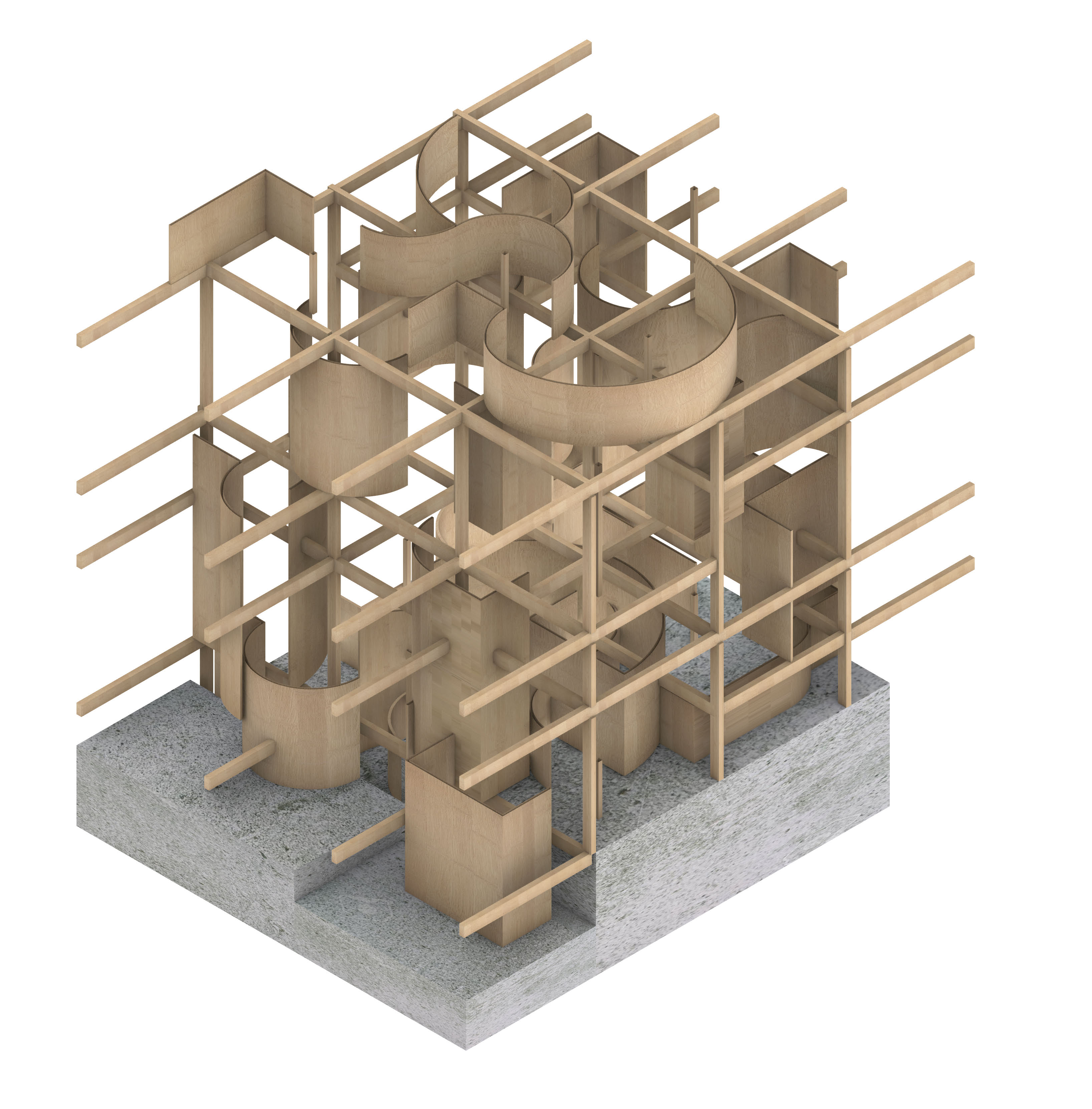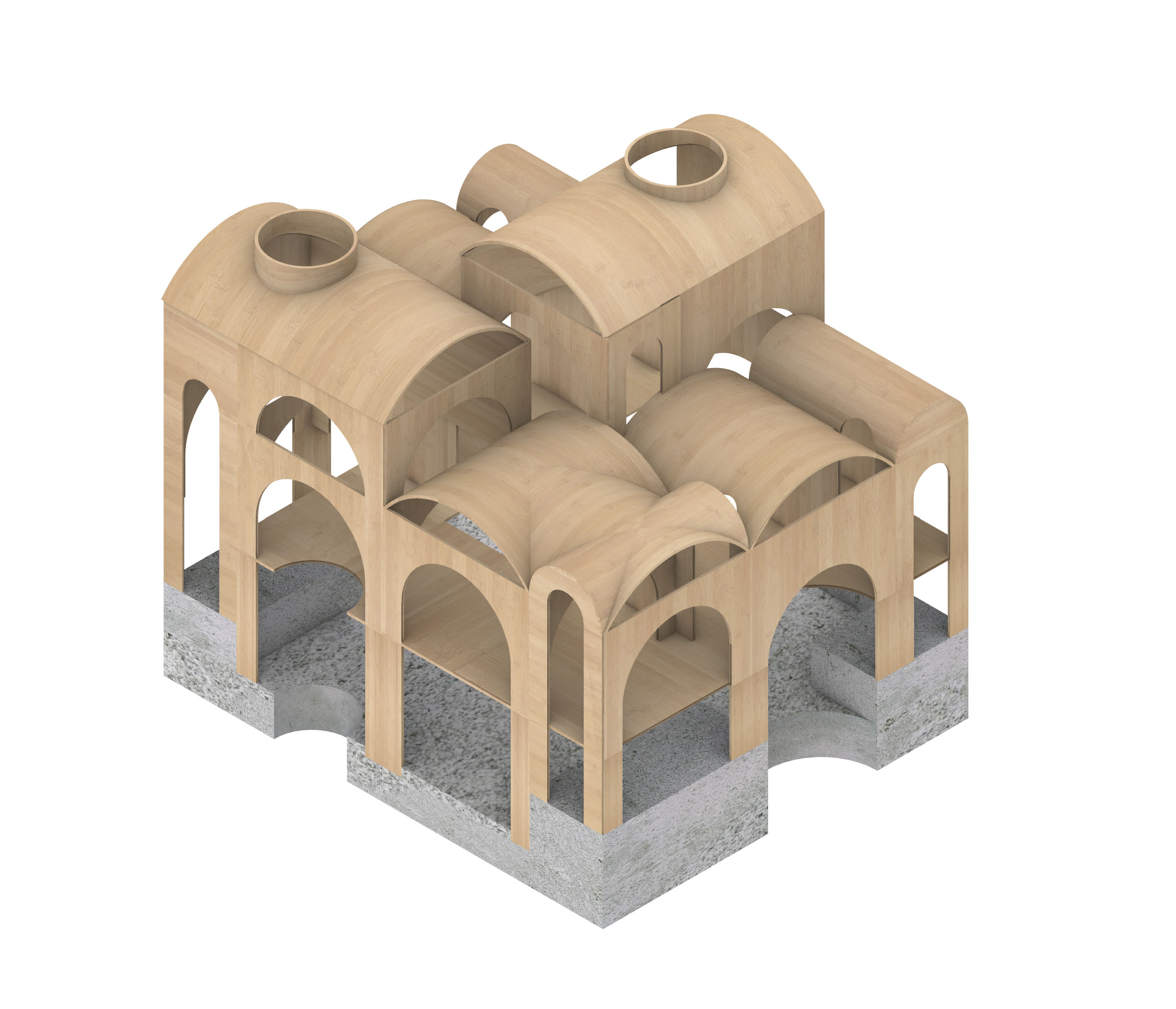 Multi-storey Curved CLT Structures
Version III
Version III consists of planer CLT wall and floor structure with single curved vaulted elements. This system is arranged on a 1:2:1 proportion with single, double and triple height volumes.
Curved CLT elements comprise mostly of vaulted roof structures in 10 and 20 foot radii with one directional spans of 10 and 20 feet. These vaulted structures are arranged as barrel vaults and groin vaults with spans intersecting at 90 degrees. Planar curved CLT elements also include cylindrical lightwells. Planar CLT elements include semicircular arches and circular/ semicircular CLT floor penetrations.
Each panel takes thirty hours from material prep to glue-up, cure time, and finally panel sanding and finishing. The panel and board dimensions we have chosen make it possible to streamline production and make it as efficient as possible without industrial-scale machinery. All 45 boards in each panel are the exact dimensions. Each "sheet" is made of 9 of these boards. The panels are all cut down to 3'6'' x 3'10'' after they have been curved and drilled with four connection holes and 4 feet holes. In this way, we have been able to produce a kit-of-parts including 20 panels that are interchangeable and could be arranged out in millions of orientations. While no panel is perfect, we improved in quality and consistency with each repetition to produce industrial-scale panels from a typical woodshop and 4'x4' vac-bed.